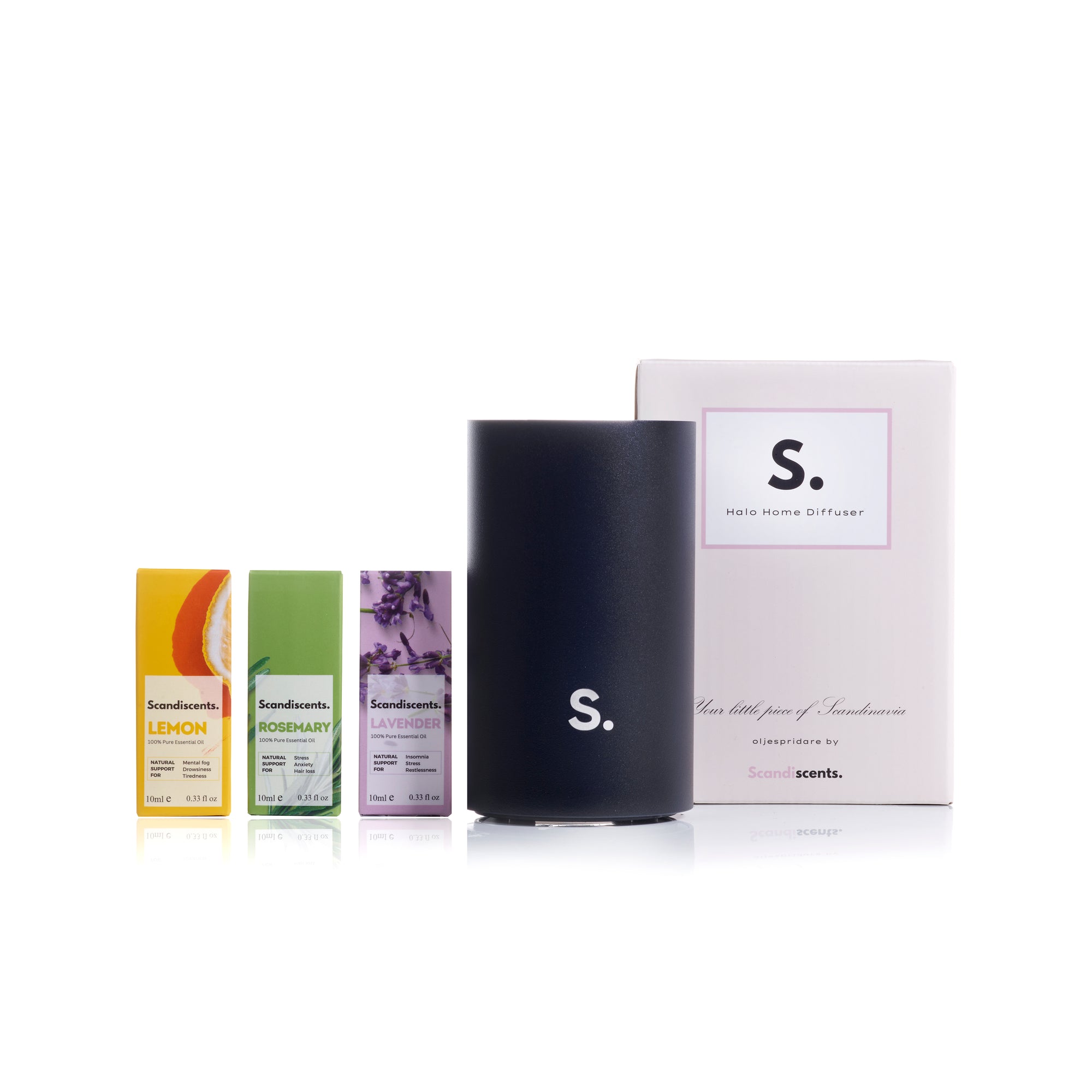 Morning, Noon and Night Complete Kit (Black)
Includes:
✔ Black Halo Diffuser
✔ 100% Pure Lemon Essential Oil for Morning
✔ 100% Pure Rosemary Essential Oil for Noon
✔ 100% Pure Lavender Essential Oil for Night
✔ USB-C Charging Cable
✔ User Manual
✔ Velvet Bag
✔ Spare 10ml Bottle
✔ Spare Straws
These three essential oils are renowned for their versatile benefits, including:

Reduce Anxiety and Stress: The aroma of rosemary oil is often used to promote relaxation and relieve stress. It can help reduce anxiety, tension, and fatigue, and create a calming effect on the mind and body.

Increased Energy and Mental Alertness: The invigorating scent of lemon essential oil can help increase energy levels and enhance mental alertness. It may be used during periods of fatigue or when you need a natural pick-me-up.

Improve Relaxation and Sleep: Lavender oil promotes relaxation, eases stress, and aids in achieving restful sleep, making it ideal for bedtime routines and creating a soothing environment.

Boost your mood: Rosemary oil is often used in aromatherapy to uplift the mood and promote a sense of well-being. It is thought to have antidepressant properties that can help improve mood and reduce symptoms of depression.

Improved Focus and Concentration: Lemon oil is known for its ability to improve focus and enhance concentration. Inhaling its aroma can help clear the mind, improve cognitive function, and promote mental clarity.

Keep the bugs away: Lavender oil acts as a natural repellent against certain insects, making it a useful choice for outdoor activities or creating bug-free environments.

Healthier Hair and Scalp: Rosemary essential oil is often used in hair care products due to its ability to stimulate hair growth, improve scalp health, and combat dandruff. It can be added to shampoos or applied directly to the scalp.
Our Halo Home diffuser is known for being super easy to use!

All you have to do is pop top the coil out, screw in your favourite 10ml fragrance oil, and pop the coil back in.

Then simlpy turn it on and it'll start making your room smell wonderful!
Can your oils be used in a household in pets?

Fragrance oils are generally fine to be used in households that keep pets and many pet owners use these products without issue however, if you have birds, aquatics or exotics, we would recommend that you burn/use the product in a separate room so as not to cause any harm to the animal as they have very sensitive respiratory systems. As with all home fragrance products we recommend taking extra precautions when using around pets to minimise the risk of them ingesting the product. General safety states to keep out of the reach of pets (and children).

How long do your 10ml bottles last in the Halo Diffuser?

Between 4 - 6 weeks with daily use. This will depend on the settings used with the waterless Halo Home Diffuser.

Can other oils be used with the Halo Diffuser or only Scandiscents branded ones?

We don't believe in gatekeeping you from using great oils - no matter where they come from - which is why any standard 10ml bottle will fit the diffuser.
Caution: Oils must NOT be mixed with water or any type of carrier oils as this can block the diffuser.

Is the Halo Diffuser rechargeable?

Yes! The halo diffuser is rechargeable and lasts approximately 72 hours of use with a full charge.

Do you ship internationally?

Unfortunately at the moment we only ship to the UK for the time being.

What's the difference between essential oils and fragrance oils?

Essential oils are natural extracts from plant materials with potential therapeutic benefits, while fragrance oils are synthetic scents designed for consistent, long-lasting aroma. The choice between them depends on your intended use, personal preferences, and whether you prioritize natural or synthetic ingredients. Read more...

 
Capacity: 5 - 15ml
Voltage: DV-5V
Power: 1.5W
Battery max running time: 72H
Battery capacity: 2000 mAh
Size: 70mm x 119mm
Net Weight: 320g