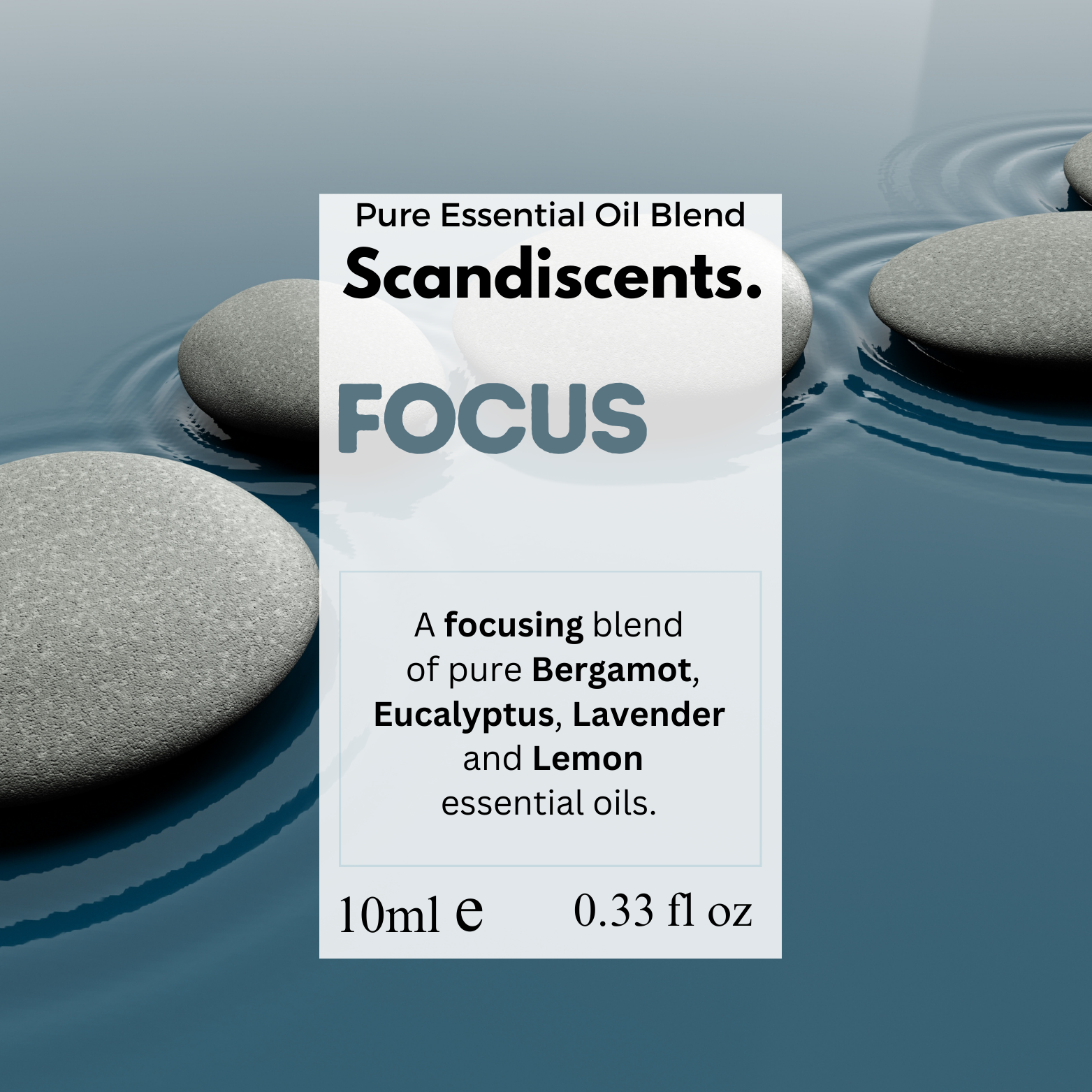 Focus
100% Pure essential oil blend of Bergamot, Eucalyptus, Lavender and Lemon.
It's time to get to work, and this blend of 100% pure essential oils is designed to help clear your mind and help you focus.
Bergamot Essential Oil
Much like other citrus oils, bergamot possesses the ability to invigorate and uplift, making it effective in dispelling low spirits and alleviating anxiety symptoms. Notably, bergamot is acknowledged for its harmonizing properties, mitigating excessive emotions and promoting a sense of rejuvenation and emotional equilibrium.

Chinese Eucalyptus Essential Oil
Chinese eucalyptus oil is renowned for its potent, purifying fragrance, often harnessed to clear respiratory passages and support better breathing. It also aids in relieving tension headaches due to its anti-inflammatory attributes, contributing to an overall sensation of well-being, vitality, and optimal functioning.

French Lavender Essential Oil
Lavender, a soothing oil with a history of healing use, is celebrated for its ability to reduce symptoms of depression and anxiety with its fresh, purifying aroma. Diffusing lavender oil at home is noted for its capacity to promote mental clarity, as well as elevate one's mood.

Lemon Essential Oil
Lemon essential oil is a revitalizing and invigorating oil, distinguished by its crisp, citrusy scent, which enhances alertness and reduces anxiety. Inhaling lemon oil delivers an enlivening experience, fostering a more positive outlook while alleviating fatigue and nausea.

There are multiple ways to utilise our 100% pure Christmas Cracker essential oil blend!

Aromatherapy:
Place the bottle into an essential oil in an electric diffuser.
Alternatively, place 5-7 drops into one of our stunning Wax Burners.

Massage:
Dilute 5 drops of essential oil with 10ml of carrier oil.
Massage the diluted essential oil into your skin.

Bath:
Add 6-8 drops of essential oil to warm bathwater.

Skincare:
Add a couple of drops of essential oil to a carrier oil or your chosen lotion.

Soap:
Add essential oil to soapmaking recipes as instructed.

Candles:
Add essential oil to candlemaking recipes as instructed.

Potpourri:
Add a few drops of essential oil to potpourri creations to enhance scent.
How long does the oil last?

It's impossible to say exactly how long as this depends on how frequently you use it, and on which settings. Generally, with daily use, a single bottle should last around 4 - 6 weeks.

Do I have to use Scandiscents oils or can I use my own?

You can use any oil as long as it fits the diffuser! Please make sure that these are not mixed with any water, or a carrier oil, as this will clog the diffuser and void your warranty. 100% pure oils only.